Bespoke benches are a real work of art
The first of five stunning hand-crafted benches has been installed at Furness General Hospital in Barrow.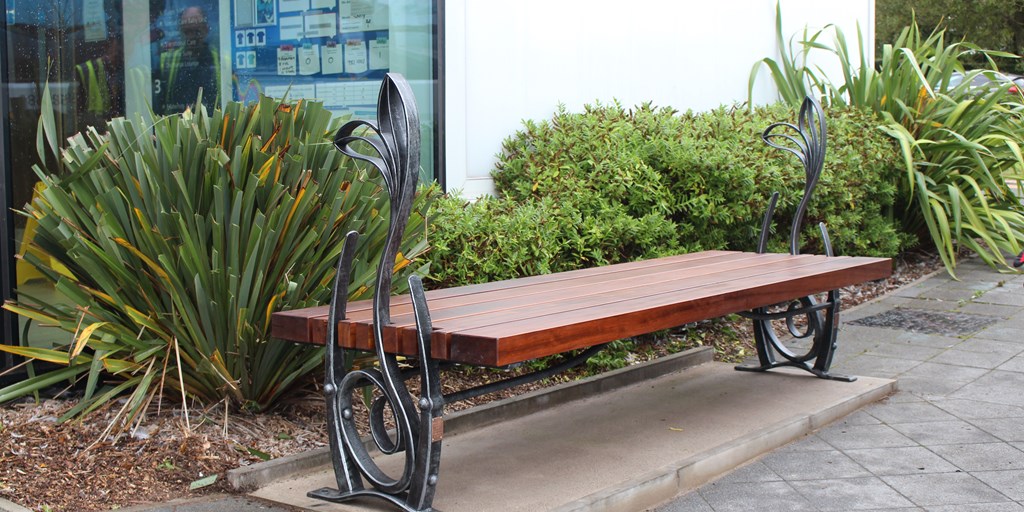 A suite of benches designed to reflect on the significant care and contribution made by the health sector throughout the Coronavirus pandemic has been commissioned by our neighbours Bender UK.
In his design, Chris wanted to convey the idea that after such a devastating time for many there will be new beginnings, growth and development.  The design depicts a seed bursting into life and pushing out of the ground.  The emerging stem and unfolding leaves form the ends of the bench, the seed pushing the legs out and the stem reaching up through the timbers of the bench.
The benches were created with a mix of forged and crafted metalwork using traditional punched and riveted joints.  The timbers are Iroko – widely used in public realm.
Chris Brammall comments "These benches really are something special.  When we were approached by the Bender UK team we discussed the sensitive nature of the brief and how we could reflect on what has been a very difficult time for the NHS but also look to the future. I've named the design 'Growth'.  You can feel the craft and workmanship that has gone into the making of these benches – they really are something special".
Bender UK – a market leader in the provision of resilient healthcare equipment -  will gift the benches to several NHS Hospital Trusts including Barrow in Furness, Leeds, Southampton, London and Belfast.   The benches will be located in the gardens and grounds for use by patients and staff as an area of reflection and a quiet place for thought.