Figure of Industry begins to grow
Our latest sculpture and public art commission 'The Figure of Industry' is underway.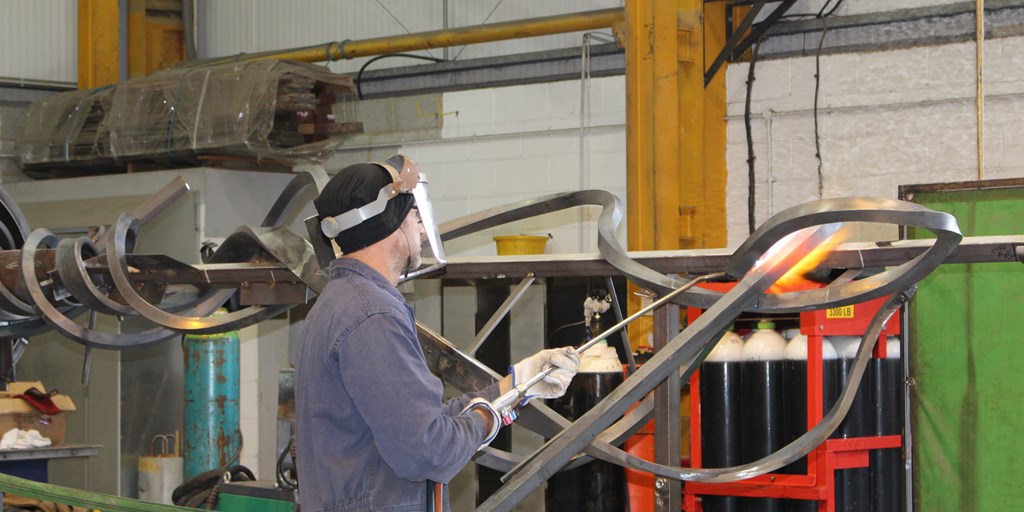 At last!  After 3 years of waiting we are finally building a 9m tall sculpture for Banbury - a commission we won in early 2018!
'Figure of Industry'  draws on Banbury's modern engineering industries but also its rich heritage of engineering and manufacturing. Designed by Chris, one key inspiration for the piece is Sir Bernhard Samuelson who was known as 'The Iron Man of Banbury'.  Samuelson put the town on a world level of engineering and production and is seen as a key founder and influence on Banbury's rich heritage.
The piece depicts a figure, and while drawing the idea from Samuelson as the 'Iron Man' the figure is a symbol of the human side to the development of the town and his significant investment in the workers but also the sculpture will become representative of the current and future investment in the people of Banbury and the surrounding area.
The influence in how the figure is formed has come from the machining, turning and milling of metals in engineering. The cutting and pealing of surfaces which creates spirals and coiling strands of swarf.
The piece has a circular column to give height.  Towards the top strands and ribbons of steel pull from the surface spiralling and turning to then start forming the figure. 'Figure of Industry' is stood with arms stretched in a welcoming and open manner as though gesturing in the direction of the town.
Working from a model, John, Phil and Chris are building the sculpture which involves some serious heating and bending of very heavy steel plate.  And with not long til completion, we can't wait to see the finished sculpture stand proud of place in Banbury.