If there's one thing we do love here at CB Arts, it's a COLLABORATION! Back in March 2020 and before anyone knew what lay ahead for the world, CB Arts was approached by Bex Simon. If you don't know this name, go check out https://www.instagram.com/bexsimonartsmith/ for some inspiring metalwork.
Bex, an award winning and hugely talented Artist Blacksmith based in Devon had been commissioned to design a set of gates for Old Brewer's Yard in Covent Garden and due to the scale of the project, Bex chose CB Arts for fabrication and installation (thanks Bex!) and we are delighted to see the first gate for Langley Street complete.
It was important to Bex that the gates stand alone as an independent piece of art, whilst also portraying a link back to the site's history and the commissioners; her final design beautifully represented the simplified stages of brewing with stylised barley forms at the base, moving to oak barrels in the centre and finishing with the effervescence of the finished product at the top.
As they say, the devil is in the detail and boy, is there detail in this project – we've tried to capture the intricacy of the work as it progressed – read on for some highlights.  Made from a combination of three different steel grades and various modern and traditional techniques of fabrication, this project certainly put our team to task.  Laser cut Corten steel plates formed the basis for an intricate set of overlayed, hand forged components in mild steel and stainless steel to create Bex's vision for this project.  Intricate steel shapes were individually made to fit the pattern of the laser cut plates -eight barley hops and sixteen barley leaves, eight Y logos to represent the commissioner's identity, 96 stainless steel bars for the barrel detail (the circle detail of the barrels were each hand rolled) plus hinges were all carefully hand crafted and assembled by our team.  The forged steel frame was painted in Royal Blue and finished with a graphite topcoat.
Oh, and not forgetting some impressive electropolished steel!
Scroll on to the end for Chris with Bex and the finished gate in Covent Garden.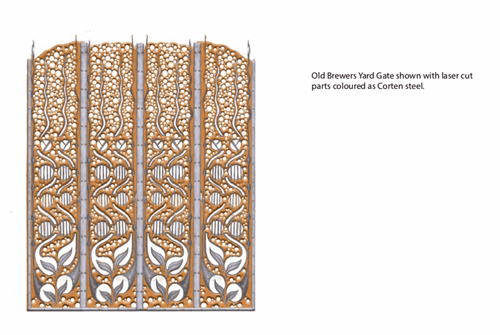 The Design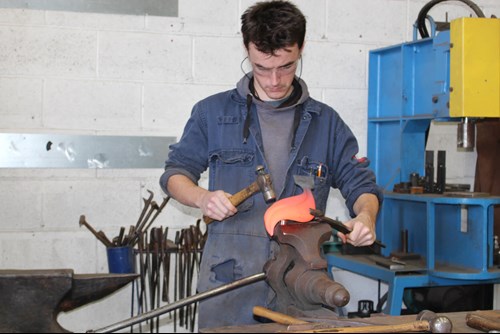 Electropolished stainless steel Barley detail heated to reveal temper colours.  Each hand forged by Ali in the workshop.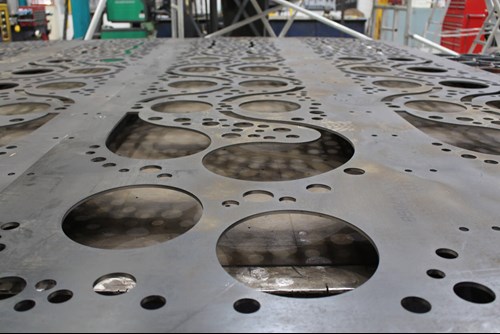 Laser cut Corten steel plate formed the basis for the piece.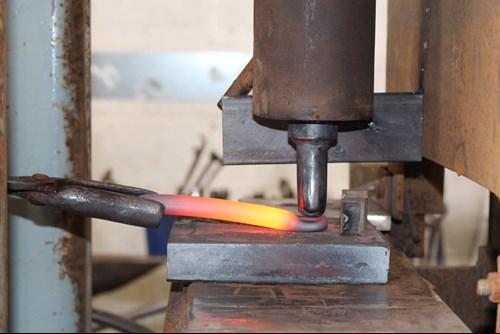 All 96 stainless steel bars to detail the 'barrels' were forged in the workshop before being electropolished.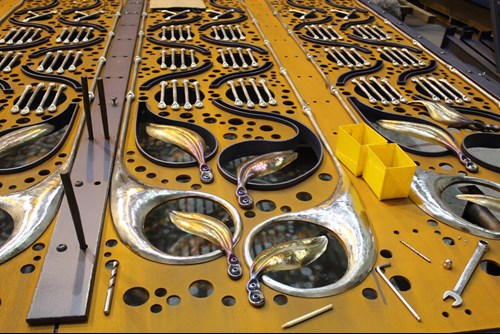 Intricately assembled three dimensional forgings in electropolished stainless steel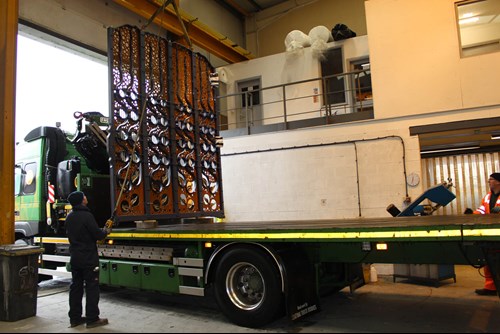 The team carefully loading ready for delivery.  The finished gate stood at 3.7 metres in height.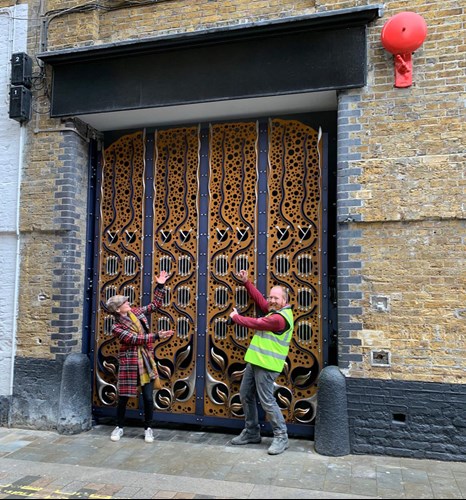 Bex and Chris on installation day.
More information:
https://www.theyardscoventgarden.co.uk/about-us/