Ulverston Canal Rolling Bridge
Sculptural Interpretation installed at Ulverston Canal Rolling Bridge.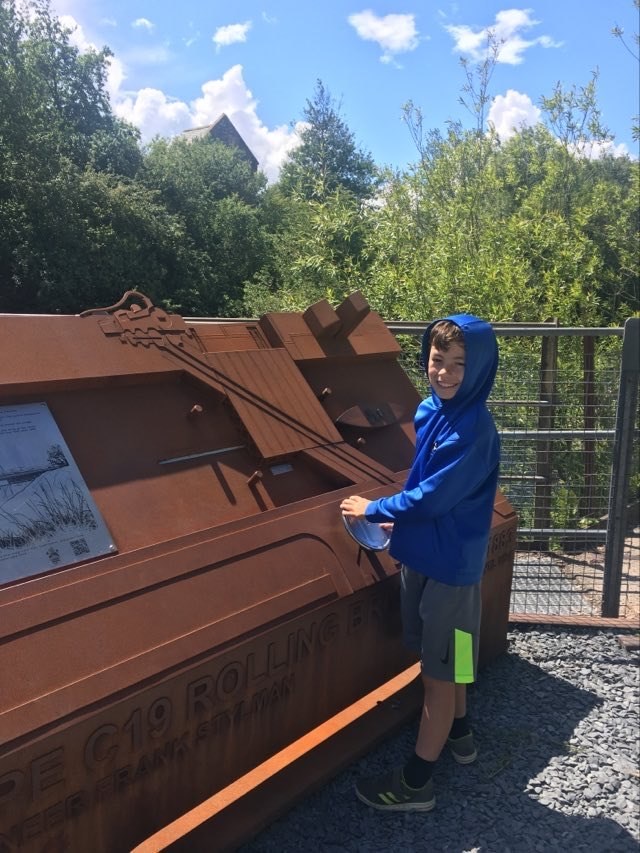 On Saturday 19th October our latest installation at Ulverston Canal was officially opened to the public.
Designed by Chris and fabricated by our craftsman Phil, the interpretation sculputre is made from Corten and compliments the existing totems which line the canal tow path.
The brief was to design an interactive piece which demonstrates how the rolling bridge worked making it interesting to both children and adults alike. The hidden working parts include a stainless and bronze bevel gear which was hand-made for the piece.
The Rolling Bridge is a listed structure and historically important as the last remaining one of this design in the Country.
It enabled shipping to use the canal without the need to construct massive earthworks with a gradient that trains could cross. The central framework rolled back on wheels into a dock on the southern bank, leaving the deep channel open for boats. Thanks to the recent clearance of tress and shrubs on the southern bank the wheels can now be seen easily. The Accumular Tower (on the opposite bank to the tow path) housed the machinery to power the hydraulic rams that moved the bridge.
Mayor of Ulverston Sharon Webster cut the ribbon to declare the interpretation officially open.
Symmetry CGI have created an animation of the Rolling Bridge which you can find on-line here:
https://www.youtube.com/watch?v=AW2hD7eQ1vI&feature=youtu.be
You can find out more about the canal and rolling bridge by following the links below:
https://historicengland.org.uk/listing/the-list/list-entry/1404328